Bourn 250k Audio Solid Shaft Potentiometer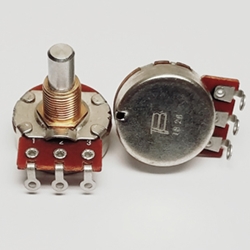 Bourn 250k Audio Solid Shaft Potentiometer
Bourn 250k solid shaft audio guitar potentiometers (Short Shaft). These are high quality pots made for guitars from bourns professional audio line. The pots have a low torque so they turn with ease. They have a metal shaft and metal bushing along with a carbon element. Solder lugs make them easy to solder to when wiring your guitar.
We sell them individually, as pairs, and add a bulk pack.
Matched sets are when we hand select the pots that have OHM reading with in 10k ohms of each other. That means for example, all pots are in the 240k to 250k (10K) range or 245k to 255k (10k) range. This helps better with your audio signal so you don't have a potentiometer that reads higher or lower than the rest.