Screws - Stratocaster Oval Head Nickel 5/8" Pickup Height Screws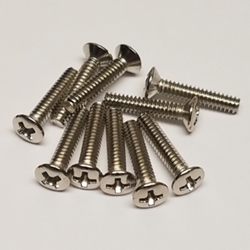 Screws - Stratocaster Oval Head Nickel 5/8" Pickup Height Screws
Oval head screws for stratocaster that are constructed from steel with a nickel high gloss plated finish. The screws are phillips oval head screws that are 5/8" long. 6-32 is the thread of the screw. The screws are used in stratocaster guitars with a 1-ply (50s style) pickguard with countersunk pickup height screw adjustment holes.
-We sell these in a 10 count as well as a bulk 50 count pack.
-Nickel steel screws can also be relic'd so if your guitar has a relic finish, these are the perfect screw to be used in your aging process.