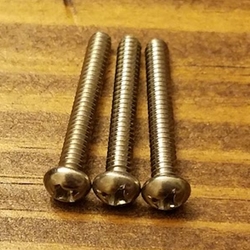 Screws - Telecaster 6-32 x 1" Phillips Round Head Intonation Screws, Stainless Steel
These 6-32 x 1" long Phillips Round head screws in stainless steel are the short length intonation screws for fender telecasters. The short screws reduce the amount of the screw that sticks past the end of the saddle. These fit all fender style bridge plates with the 3 saddle vintage configuration.
- Sold in a 6 pack and also in a bulk pack of 30 pcs.