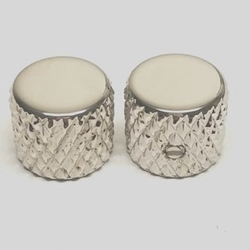 Heavy Knurl Flat Top Telecaster Knob Nickel
Heavy Knurl telecaster Flat Top knob plated with nickel, provides the same heavy knurl as was found on the earliest telecasters. The flat top is correct to vintage telecasters about mid year 1956 and beyond. They come with a set screw and fit all the most common solid shaft pot types. CTS & Bourn.
- Vintage Correct from about mid year 1956 and later.